Reviews of The Prīmulī Prophecies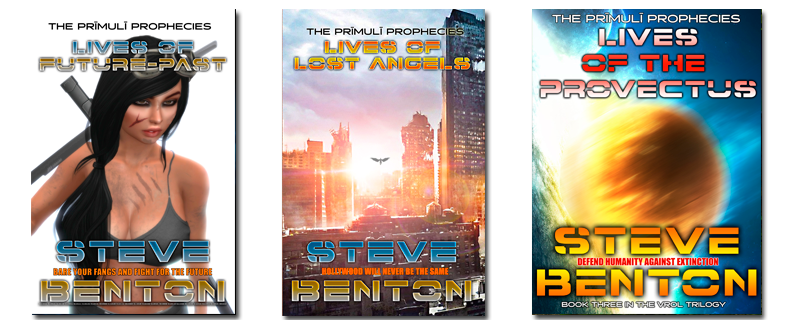 All authors frequently check reviews and ratings on their books. Everyone has an opinion, and each individual sees different things in written words. Some reviews are cruel, some are revealing and some are even heart-lifting. If the author is wise, they can learn from them.
Thanks to many reviews, this author decided to develop a series based on Lili, a main character in The Prīmulī Prophecies.

BEST SERIES I HAVE EVER READ
Anonymous on November 22, 2015
The usual "could use some editing" but otherwise the most fantastic books of any genre I have EVER read. I was riveted by the action, laughing at the antics of various characters (especially Lili) and crying at the loss of some wonderful characters. VERY HIGHLY RECOMMEND!

sci-fi, tech, werewolves, & vampires - all my favorites in one book!
By Anthony Nguyen on May 30, 2014
This is my first time writing a review of any sort.
I truly love this book. The author did an awesome job of mixing all my favorite genres into a great story telling adventure.
The story telling was well paced with great character development to keep you interested through the entire book. I couldn't put the book down.
The narrative on how the lycans transform into a werewolf was very detailed.
I can't wait to find out what happens in the next book.
Highly recommended.


Great Book!
By Kindle Customer on May 28, 2015
Entertainment at its best! Read this book and had to read the next one immediately afterward. Packed with action, adventure, a bit of romance and of course supernatural, science, fantasy, myths, superheroes....etc... this fun read is woven together nice and neat! Highly recommend!

fun fast paced and complex
By TONI DREW on May 4, 2015
somewhere in a galaxy faf far away...fun fast paced and complex! sci/fantasy at it's best! can't wait for the movie!

Can't wait for the second book!
By Pandamoniyum on May 30, 2014
Fun, quirky, and a bit melodramatic--all good things for this sci-fi romp through metal ships and old castles. Bring on book two!

Just awesome
By Doug Heff on June 7, 2014
This was an awesome find -Cant wait for the next one to come out.
Any date on when it will be coming out?

EXCITING AND FUN
By MLS on December 21, 2015 This second book outshines the first. Great fun in my old stomping grounds where Max does some stomping of his own. HIGHLY RECOMMEND