MEET STEVE BENTON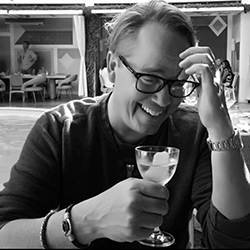 Steven Kenneth (SK) Benton has a problem - he thinks too much.
It's been that way since he was young.

But that's really okay, because he likes to play make-believe in his head and write it down on a hard drive.
Born, raised and educated in Portland, Oregon, Steve ditched law school for a computer - something he has never regretted. Starting as a graphical applications instructor, he maintained a list of famous clients, from Joe Barbera at Cartoon Network, to John Hench, V.P. at Walt Disney Imagineering, and many in between. From there he went on to write speeches for the C.E.O. of Nihon Kenko Zoushin Kenkyukai, Toshizo Watanabe, and traveled the world, creating multimedia extravaganzas at Watanabe's conventions and events.

Benton immersed himself in video games in his spare time - mostly in MMORPGs (massively multiplayer online role-playing games). He enjoyed watching the interaction between the players. Inspired by the drama, combined with the fantastical environments in which they would play, he created a series of short stories on his blog, centered on the protagonist who would eventually become Max Gunnarsson.

Two years later he dissected his blogs, took what worked, deleted what didn't, and wrote The Prīmulī Prophecies: LIVES OF FUTURE-PAST, LIVES OF LOST ANGELS and LIVES OF THE PROVECTUS. Recently, he published a novella, HOW TO NOT DIE IN POST-APOCALYPTIC HOLLYWOOD, which brings readers back to the world depicted in LIVES OF LOST ANGELS; this time with an all-new protagonist.
The Prīmulī Universe is a new concept; a new genre in storytelling. While there have been some novels that mix science fiction and fantasy (via authors such as Piers Anthony), never before have the unknown and mystical been explained in such vivid detail as in Benton's books. His readers learn what magic really is, where the gods come from, and how space/time functions.
Steve likes to call this genre SCIENCE FANTASY, and the description is quite apt.

His first success as an author came when OMNI Magazine published his short story NOTHING BUT STARS IN THE SKY - a tale about an American Marine in Iraq who must rely on a local boy to survive. After a reorganization in the Jerrick infrastructure, they published more contracted short stories in OMNI MAGAZINE; BITS 'N PIECES, PRESENT REWRITTEN, COLORFUL and SLAVES. He later added PAST RETOLD, a continuation of PRESENT REWRITTEN, and CREATING AN ALIEN LANGUAGE FOR YOUR MANUSCRIPT, an article geared toward assisting writers in developing fictional, alien dialog in their stories.
His short fiction pieces often end in macabre or unexpected twists, much like the popular Twilight Zone anthology series.
Benton lives in Southern California, has been married for over thirty years and has two daughters. He speaks, reads and writes Spanish fluently, and muddles though a couple of other languages with the help of small phrasebooks for travelers.
An accomplished musician, he plays guitar, mandolin, piano, bass guitar, drums and a number of other instruments. He also holds a black belt in WTF TaeKwonDo, is a prolific traveler as well as an expert-level snow skier, and loves mountain biking.
His direct Benton line first came to America in 1638, from Essex, England, settling in New Haven, CT.
Before arriving in the Americas, his ancestors consisted of a town sheriff and two knights. Oddly enough, DNA analysis shows he is mostly Scandinavian. Upon learning this particular fact he traveled through Sweden and Denmark to meet any possible relatives. He found none, but the beer was great.
Steve welcomes you to participate in his social media portals: Twitter, Facebook and his Blog.